Events
Would you like the Planet Clark trailer to appear at your event? Call (360) 397-2375 ext. 4540 or email trailer@planetclark.com.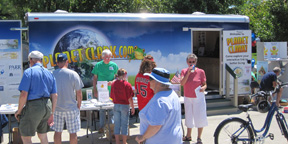 Clark County Building Safety has conjured up some fall fun at the 2016 Portland Fall Home & Garden Show. Experience our special booth "Are There Monsters In Your Closet?" and check out our Zombie Fail Rube Goldberg style machine. Play the Zombie Duck toss game and go on a Zombie Hunt. Get a Trick-or-Treat bag too! […]
Sign up for our newsletter
Subscribe to our e-mail newsletter to receive updates.
Related Topics