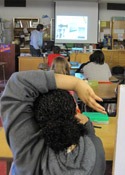 Clark County kids can learn about what energy is, how we use it in our homes, and what we can do to save energy.

Using an infrared camera and hand-crank generators for interactive learning, third through fifth grade students are trained as  Energy Detectives. Planet Clark staff bring this one hour program to Clark County schools. Each Energy Detective receives an energy saving plan for their home, as well as an Energy Detective bookmark, pencil and certificate.
For more information and to schedule a visit to your school, contact Mike Selig at mike.selig@clark.wa.gov or (360) 397-2375 ext. 4540.


US EIA Energy Kids
Introduce your kids to the fun-packed Energy Kids website. It has a lot of fantastic information including learning games for children from kindergarten though high school. Downloadable lesson plans are available for teachers. You will also find posters, activities, and Sudoku puzzles.